How to Unlock the Power of SAP Business One Version 10 to Streamline Your Business Operations.
Today's business owners are looking for ways to run their operations more efficiently and increase their bottom line. SAP Business One version 10 offers a comprehensive solution with the enhanced features your business needs to succeed.

Read on to learn more about these enhanced features and how they can help your business reach its goals. You can also view the Coffee Break Webinar on this topic.
1. Changes in the Administration Module
Copy Selected forms between users
The Administration Module now enables users to conveniently copy over specific form settings between different accounts instead of applying all or none. This improves control over form settings, which was previously tedious and time-consuming.
Configure License Balloon Appearance
When a user logs into SAP Business One, they are typically greeted by a License balloon. This can now be disabled on an individual basis should the organization wish to do so.
Enhancements in the Approval Process
The approval process has been enhanced to enable both originators and authorizers to update documents during the authorization process (while pending). This simplifies and streamlines the procedure while also providing greater flexibility.
The approval status report now includes Draft Updated By, Draft Update Date, Draft Update Time, and Draft Remarks fields for an iterative back-and-forth exchange of information.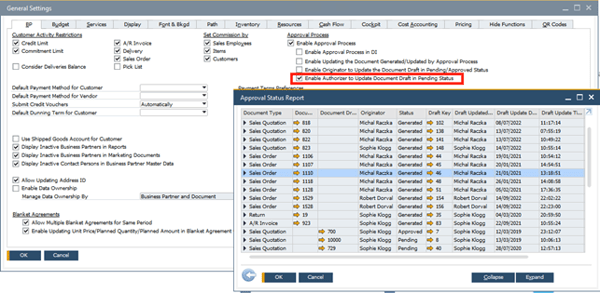 Field Length Increase
Now you can write up to 200 characters for the description – a useful addition that allows companies to write additional remarks on description fields.
It should be noted, however, that you don't need to use all 200 characters in the description. Incorporating the additional information into a UDF or foreign name field is a better option.
Referenced Document Enhancements
Reference documents can be instantly linked and viewed in the relationship map. Before, it would take a few clicks to determine if any such documents were attached; This minor but powerful update provides countless benefits in various scenarios, allowing related transactions to be manually connected while remaining visible.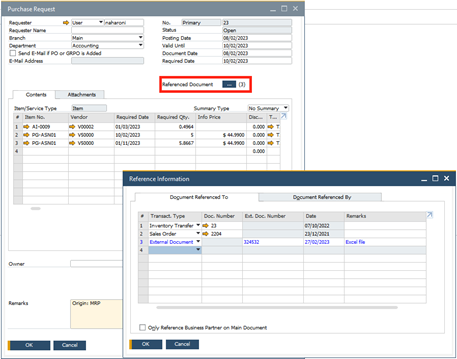 2. Changes in The Financial Management Module
Drill Down to G/L Account in Financial Reports
The GL Drill Down feature on Financial Reports in SAP Business One provides detailed financial insights to businesses. Balance Sheets, Trail Balance, and Profit & Loss Statements can be accessed directly from the Chart of Accounts with golden arrows linking the codes.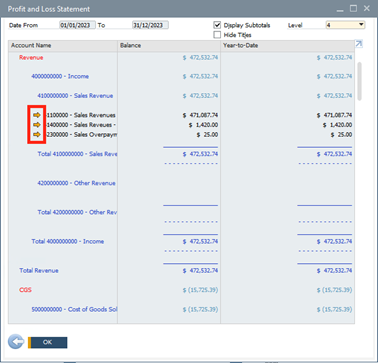 All these features are available with browser access and mobile apps, making it easy for users to monitor their finances from anywhere.
Fixed Assets Enhancement
With implementing a new Revaluation Account on the Fixed Assets Account Determination, users can now specify a specific G/L account for Revaluation transactions. Additionally, new rounding methods have been implemented at year-end, enabling users to round fixed asset book values up or down in total amounts.
3. Changes in The Sales | Purchasing | Service Modules
Set Default Price List in General Settings instead of in Payment Terms
One of these new features in SAP Business One v. 10 is setting a default price list in General Settings instead of in Payment Terms.

By selecting this option, two new fields will appear so you can easily set the default price list for your customers and vendors. Additionally, the Price List field in Payment Terms Setup will be hidden and no longer associated with all actions, like when changing payment terms during document creation or update.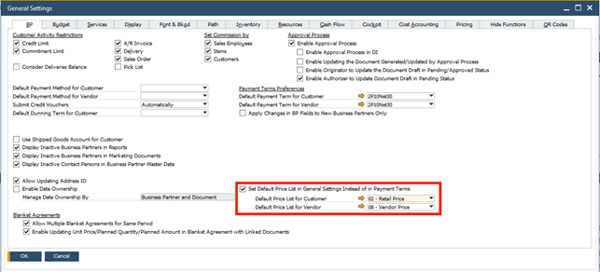 Hide Inactive Contact Person in Business Partner Master Data
This checkbox, located on the General Settings tab under BP, allows companies to choose whether or not they want to display inactive contact people on their Business Partner Master Data Contact Persons tab.
Link Between Contact Persons and Business Partner's Addresses
Companies can now easily link a contact person to the business partner's existing Bill to, Pay to, and Ship to addresses with the new dropdown list Connected Address on the Contact Persons tab of the Business Partner Master Data.
This feature helps ensure that data is consistently updated and accurate across all accounts.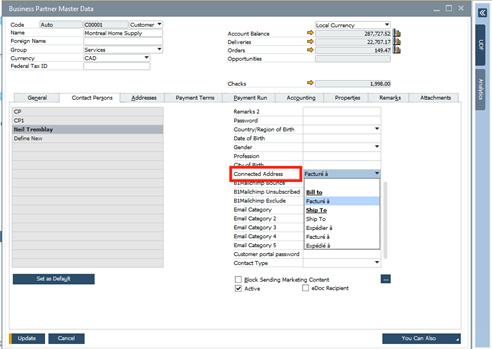 Add Button Extended in Marketing Documents
The Add button in sales and purchase document creation is now enhanced with three extra options – 'Add & New', 'Add & View' and 'Add & Close'.

This allows users to add the document they are creating and determine the next step - open a new window, view it, or close it. The user's last choice will also be remembered for the given document for the next time.
Editing UDFs in Document Rows After the Document was Added or Closed
With the new "Allow Update of User-Defined Fields When Document Rows Are Not Editable" setting in SAP Business One, businesses can edit UDFs on marketing documents after they have been added or closed. Authorization controls guarantee that users only have access to modify those fields relevant to them.
Confirmation on Quotes
By adding the "Confirmed" checkbox on the "Logistics" tab, users can officially confirm sales and purchase quotes at any time with a tooltip showing who confirmed it and when. This confirmation process adds an extra layer of oversight to ensure accuracy.
Document Status "E-Mailed"
Companies now have access to an enhanced 'Document Status' feature that provides more detailed information about their sales documents, purchase documents, and inventory transfer requests.

Documents sent via email can now display an 'Open; E-Mailed' status, or if the document were both printed and emailed, the displayed status would be 'Open; Printed and E-Mailed'.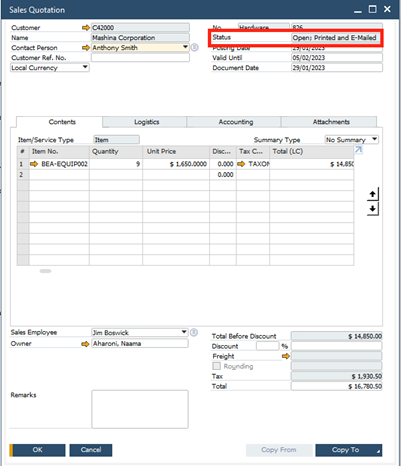 Update Consolidating Business Partner and Consolidation Type on Document Level
Now, you can quickly adjust documents to changing circumstances. You can now update both the consolidation type and business partner directly on the document level for A/R Invoice, A/R Reserve Invoice, A/R Credit Memo, A/R Down Payment Invoice, deliveries, returns, A/P Invoice, A/P Reserve Invoice, A/P Credit Memo, A/P Down Payment Invoice Goods Receipt PO and Goods Return.
This feature is also available through Document Generation Wizard, Payment Wizard, Billing Wizard, and Copy To & Copy From functionalities.
Hide blank lines in addresses
When the "Hide blank lines in addresses" checkbox is selected in the "Address Formats - Setup window," empty address lines will be removed from ship-to and bill-to addresses in future marketing documents.

This setting also applies to print layouts for marketing documents defined in Crystal Reports, meaning empty lines won't appear even on printed versions.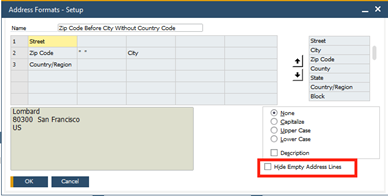 Enhanced Open Items List Report
The Open Items List report gives users more options, including viewing Owner, Sales Employee/Buyer, Remarks, Approved, Created by, Contact Person, Payment Terms, BP Project, and UDFs in document headers.

Additionally, users can close or cancel Sales Quotation, Sales Orders, Purchase Requests, Purchase Quotations, Purchase Orders, and both Return Requests and Goods Return Request documents.
SAP Business One Sales and Service Mobile Apps
SAP Business One provides powerful mobile apps for sales and service personnel to access customer accounts, manage leads, view stock levels, and place orders while on the move.

The Service mobile app is also available for technicians to carry out efficient onsite services. Moreover, this latest version supports MS SQL databases.

However, some fields or functions may not be available in the mobile apps due to customization capabilities and automation; hence it should be considered when upgrading.
4. Changes in the Production Module
Drill Down from BoM to Item Master Data
SAP Business One v10 offers a more intuitive and direct way to navigate from the BOM Parent Item to the related Item Master Data. - with the "drill down" feature from the Bill of Materials.

This added flexibility comes in handy when making quick decisions, as it allows users to choose how they want to access the data by prompting them with navigation choices.
5. Changes in Usability
Company Name
The company name now appears at the top of the SAP Business One client. This is especially useful for users with multiple databases, as they can quickly and easily switch between companies. Furthermore, this feature helps to ensure that users are never in doubt about which database they're working in.
Toolbar Visibility
The new version has an icon and menu option allowing users to show or hide the toolbar. This feature provides a more refined user experience by customizing their view according to their needs.
User Name in License & Add-On Administration
The License & Add-on Administration now includes the user's name instead of just a generic user code. This makes it easier for companies with large organizations to know who is using what licenses.
Hide Locked User
This checkbox provides greater visibility and clarity for businesses with many users. This feature allows companies to distinguish between active and inactive accounts in their system easily.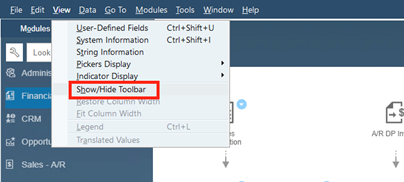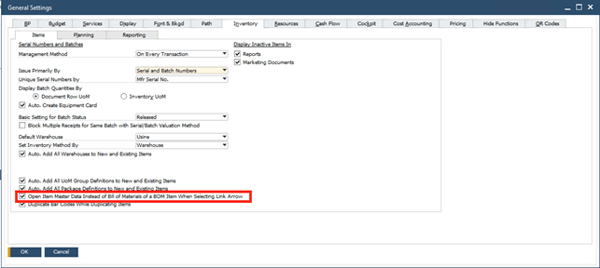 Add Queries to SAP Business One Menu
You can add queries directly to your menu with the Query Manager window and the Assign to Menu option. Once these queries are registered in the Query Menu Registration window, they will appear according to user authorization.

For a better user experience, users with B1 Usability Package can manually assign Golden Arrows to their queries for easy navigation within the system.
Import User-Defined Tables (UDT) from Microsoft Excel
Users can now easily import User-Defined Tables (UDT) from Microsoft Excel by selecting the 'User-defined Tables' option from the Data Type to Import dropdown list. This feature helps companies, as they no longer need to manually enter data into the system.
6. Changes in Platform | Extensibility
Formatted Search Supports Multiple Triggers
Now SAP allows multiple triggers to be used in a single instance of a formatted search. This is especially beneficial for businesses that require complex formatted searches or the ability to import tailored tables from their clients.
64-bit Only Support
This version only supports 64-bit with backward compatibility for 32-bit DI API, representing a major step forward in terms of performance and scalability.
Gatekeeper (Browser Access) Service
SAP has enabled the Gatekeeper (Browser Access) Service, enabling access to the SAP Business One Client UI via an HTTPS protocol without needing a local client.
To view the Coffee Break Webinar on the new features of SAP Business One version 10, click here.